How to organize a successful conference in 2023
Are you looking for advice on how to organize a successful seminar in 2023 for a new product launch or some important announcement? From selecting the conference theme and location to handling the logistics and taking care of attendees, we have touched on all the important points here on our blog. 
Establish a clear conference goal – Your conference's topic and purpose should be made very clear from the beginning. By doing so, you'll be able to maintain your concentration and make sure that every aspect of the conference—from the keynote speakers to the workshop sessions—aligns with the main theme and purpose of the conference.
2. Decide on the time and place for the conference – Pick a time that works best for most of your guests, and give serious thought to where you want to have the event. The location should be simple to reach and have quite enough room for the number of guests you anticipate.
3. Set the conference budget – The size and scope of your conference will depend on your budget, make a list of every cost you'll incur, such as venue rental, speaker fees, catering, and online as well as offline promotion, and then divide your money among them. Here are some essential points to consider while you make a list of your conference budget.
Your high costs are online promotion, space rental, and guest speaker (It contains at least 70% of your total budget)
Before you create a detailed expense plan, determine how much you will charge each attendee and your expected number of attendees. To calculate the expected revenue, you can compare it to past conferences in a similar field. You can find data on past events on event platforms online.
Online promotional expenses typically include creating an attractive landing page with high-quality graphics and content, as well as promoting it to the target location through Facebook, Google, and Instagram ads for a period of 30–45 days. It is important to continuously promote the event in order to reach a wider audience and increase the count.

 

Offline promotional expenses may include the production and distribution of materials such as flyers and banners, as well as providing promotional gift items to each attendee. These efforts can help to increase awareness and interest in the conference.

 
Identify the target audience for your conference
Determining the target audience for the event is a crucial stage even before you start planning the conference.  Here are a few methods for determining a conference's target audience:
If the conference is about digital marketing, you might consider reaching out to interested individuals through Facebook or Instagram ads. On the other hand, if the conference is about the launch of new medicine, you might invite doctors directly through medical representatives. The method of outreach will depend on the specific focus and audience of the conference.
Make contact with potential sponsors. They may be familiar with the conference's target audience if you're working with partners or sponsors. These stages will help you identify the conference's target audience and make adjustments to the event to suit their requirements and interests.
Coordinate the logistics and registration processes
Coordinating logistics for a conference involves organizing transportation, lodging, and registration for attendees in advance. Here are some key points to consider:
Establishing a registration process that enables guests to register for the conference online or in person. This could involve developing online and offline registration forms, convenient payment options, and ticket distribution.
Coordinating accommodations for conference attendees involves booking hotel rooms in advance and making sure that the accommodations meet the needs of attendees. This might include checking with the hotel directly to confirm the reservations and ensuring that there are sufficient meals provided. A team member may be responsible for managing these tasks and ensuring that the accommodations are set up properly.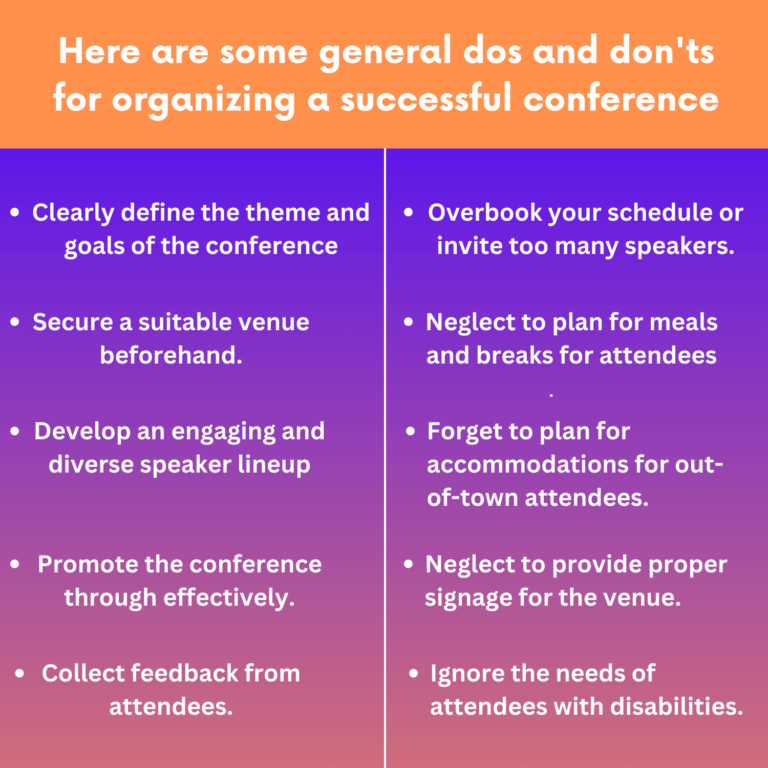 Planning for the on-site conference
On-site conference management involves managing the conference while it is taking place. This includes tasks like staffing, which might involve hiring and coordinating volunteers or other staff members to help with registration, directing attendees, or handling other tasks as needed.
On-site conference management includes making sure that attendees can easily navigate the conference venue. This might involve using signs and other visual aids, like boards or banners, to help people find their way around and know where to go.
Make sure that the conference has the necessary equipment and technology to run smoothly. This might include setting up microphones, projectors, and other audiovisual equipment for presentations or panels. It is important to have good quality equipment and backup options, like electricity backup, to ensure that the conference runs smoothly.
Merch Story recommends working with a professional conference management company to help with planning and organizing a conference. These companies have the skills and expertise to make sure everything runs smoothly, such as organizing volunteers, setting up registration areas, and managing sound equipment.
Some interesting stats about events and conference
According to a survey by the Event Marketing Institute, at least 69% of attendees believe that events are more effective at building relationships compared to other marketing tactics.
According to the same survey, 83% of attendees said that they were more likely to buy from the sponsors of events they attended.
Eventbrite found that 55% of attendees said that they attended events to learn about new products and services.
The factor that can influence the success of a conference
The quality of the speakers and the content they present can impact the value that attendees get from a conference. Attendees are more likely to find a conference valuable if the speakers and content are high quality and relevant to their interests.
Marketing is important for a conference because it can help more people learn about it. If the conference is not marketed well, fewer people may attend and the conference may not be as successful. Marketing can be done in different ways, such as using social media, email, and advertising, to reach the people who are most interested in the conference.
Choosing an easily accessible location is more likely to draw a large number of attendees, as people are more likely to attend central known places or hotels. 
10 Budget Merchandise for events and conferences 2023